2018 Summer
Junior Youth Gathering Features Traditional Teachings
The Wabun Youth Gathering for Juniors, ran July 16 to 20 at the Ramada Hotel in Timmins with teachings in traditional language, Indigenous historic games, dance and culture. The event in its twelfth year drew 64 youth under the age of 13 from Wabun Tribal Council First Nation communities.
Due to the active forest fires near the original venue in Elk Lake Ontario, a last minute change was made to host the gathering in Timmins.
"We were hoping to hold the event in Elk Lake but there are major fires burning in that area so we had to react quickly and find another venue on very short notice to keep our children safe. I want to thank Ramada Hotel of Timmins and Manager Don Padley for assisting us in hosting the event and a special thanks also to Sivas Restaurant of Timmins for catering the large gathering at short notice," commented Faye Naveau, Regional Crisis Coordinator for Wabun Health Services.
Elders assisting with the event included Vina Hendrix of Matachewan First Nation and Walter Naveau, former Chief of Mattagami First Nation.
"I was so pleased to be invited to this event as it has to do with our most precious resource, our children. It was very satisfying to see these youngsters provided with teachings of our traditional language as well as traditional and cultural knowledge. It made me emotional to see that finally our children are getting to know who they are and where they come from," explained Naveau.
The key traditional facilitators included Lamarr Oksasikewiyin, Sweetgrass First Nation, Saskatchewan; Cody McGregor, Whitefish River First Nation, Manitoulin Island and Gabriel Whiteduck of Prince Albert, Saskatchewan.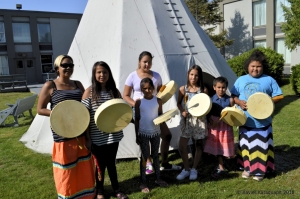 During the week the youth were provided teachings by the facilitators on a rotating basis. Oksasikewiyin, who has much knowledge in hundreds of traditional indigenous games and puzzles, led them in traditional activities and taught teachings associated to this history. He also held a presentation on his form of grass dancing and the story behind his Pow Wow dance regalia.
McGregor provided detailed instruction on the Ojibwe language in an easy and fun learning format. He also acted as Master Of Ceremonies and sang rap music while being the DJ for social dance events in the evening.
Whiteduck was joined in his teaching sessions by his partner Jahna Sutherland and their young daughter Journey. This dynamic team provided teachings and demonstrations on Pow Wows and what is involved in drumming and dancing.
Chris McKay, Mattagami First Nation, visited the event to see his two daughters Nakia and Mahdabiibn as they took part in the activities. They are all big believers in the annual Wabun Youth Gathering.
"As a parent it is fantastic to see my two daughters taking part in this event. When I think back to when I was a youth we had some cultural experiences but not to this level or degree of supported programs that Wabun provides in cultural teaching and language. I'm starting to learn from my girls now as they are learning more through these gatherings. It is inspiring to see and I am thankful for Wabun and the organizers for making this possible," said Chris McKay a prominent First Nation consultant.
His daughters were excited about their participation in the event.
"We got to learn about our language and how to Pow Wow dance which was exciting. It felt good to meet new people and it was fun to be able to play with new friends," commented Nakia while her sister Mahdabiin explained, "This gathering is different from what we do in school and anywhere else. We get to learn about culture and our language and have lots of fun at the same time"
The planning and organization of the gathering involved many people.
"I want to thank our Elders for coming to support our gathering and all of us here are so grateful to our chaperones who keep things organized and care day and night for our children during this event. Without these key individuals it would not be possible to host our gathering," explained Faye Naveau.
Jean Lemieux, Wabun Health Director pointed out that Wabun Tribal Council Health Department and additional education funding made the gathering possible.
"I want to give my thanks to all of our Wabun Chiefs and our Executive Director, Jason Batise for their continued support of what has become a long standing and very successful youth gathering. It gives me great satisfaction to see that every year new participants come along while our older youth graduate on to the senior gathering. I meet young men and women now that are furthering their education and becoming part of the workplace and I am reminded of the years they spent returning to our gathering to learn life skills and the traditional and cultural teachings," commented Lemieux.
The youngsters enjoyed beach time at Hershey Lake and bubble soccer fun at the Mountjoy Historical Participark in Timmins. The traditional female drum and singing group, Northern White Moon Singers, Brunswick House FN, led by Samantha McWatch held regular performances during the week. A big drum performance was also held with singers Nathan Naveau, Mark Carpenter and Gabriel Whiteduck.
This event was made possible through the vision and dream of Wabun Elder Thomas Saunders of Brunswick House First Nation who lobbied for a youth gathering. Sadly, he passed on before his dream came to be but his legacy lives on.
Wabun Tribal Council is a regional territorial organization which represents the six First Nation communities of Beaverhouse, Brunswick House, Chapleau Ojibwe, Flying Post, Matachewan and Mattagami in Northeastern Ontario and it is directed by its respective Chiefs.