2022 – Fifteen Annual Wabun Youth Gathering Provides Traditional Teachings
Mattagami First Nation, Ontario – July 11 to July 15, 2022
The 15th Annual Wabun Youth Gathering was held in Mattagami First Nation in a week long outdoor event from July 11 to 15 for over 70 Indigenous youth on the shores of Lake Mattagami. The event was organized by the Wabun Tribal Council Health Department with the support of the tribal council's member First Nations.
"This is an important annual event for our Wabun Youth as it gives them an opportunity to grow and stay connected to other Indigenous youth in the Wabun territory. They get to learn so much from their Elders and the traditional people that come to share their knowledge and teachings. It's also a fun time for our young people to get together and be on the land, especially after two years of pandemic isolation," commented Josee Forget, Wabun Regional Crisis Coordinator and event organizer.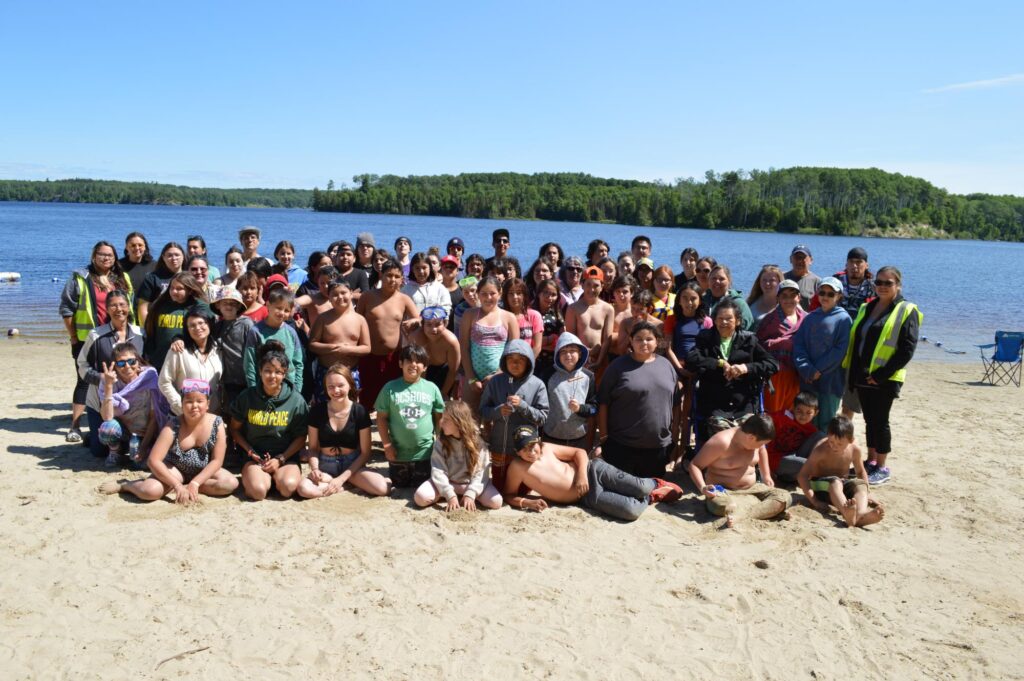 Youth took part in traditional teachings as well as fun activities including scavenger hunts, canoeing events, group activities and plenty of opportunities for swimming on Lake Mattagami next to a well maintained natural sand beach.
"I'm happy to be here with so many people and to have a good time with them. It makes me feel good to know more about my culture and my people and to be out here on the land with everyone," said 17 year old Shakira Quakegesic of Brunswick House FN.
Elders, facilitators and traditional knowledge keepers were on hand to provide teachings and lessons to youth on the Seven Grandfather Teachings, cultural story telling, drum making, soap stone carving and dream catcher crafting.
"When I see these young people on the water and in the canoes, it brings back a lot of memories of when I grew up. My Elders watched over me and my friends when we played by the water in the summer time and there was great comfort in knowing that they were there for us. It is the same now and it makes me happy to be here to witness that again," said Elder Vina Hendrix.
Several Wabun Elders made themselves available during the week. Local Mattagami FN Elder Leonard Naveau was on hand to share his vast knowledge of traditional hunting and trapping culture. Other Wabun Elders also included Elders Vina Hendrix of Matachewan FN and Mattagami FN Elders Clara Prince, Walter Naveau, Morris Naveau and Halina Naveau. Youth were also mentored and supported by a group of adult Chaperones from the Wabun First Nations. Meals and snacks were organized and led by Mattagami FN members Gary and Darlene Naveau.
"This annual gathering is very important for our children because it brings them closer to the land, their Elders and their culture. My grandchildren are taking part in this event and it makes me happy to see all these youth coming together as a community," explained Mattagami FN Chief Chad Boissoneau.
Youth were accommodated at the event in a camp ground next to the beach area with tents.
"It's great to see our youth taking part in a more land based event on our people's traditional lands. This is where we all grew up and this is who we are. The closer we can keep our children to the land, the brighter their future will be," commented Matachewan FN Chief Alex 'Sonny' Batisse.
Traditional Teacher Ocheekoosh / Sam St. Pierre of Atikameksheng Anishnawbek First Nation provided hands on teaching and ceremonies. She was assisted in these teachings by Mattagami FN members Faye Naveau and Nathan Naveau, who are both traditional teachers, drummers and singers. There was a ceremonial tipi with a sacred fire that was kept alive during the entire week by local volunteers led by Fire Keeper Kelly Naveau.
This year's event also marked the retirement of long time Wabun Health Director Jean Lemieux, a member of Matachewan FN. She was instrumental in launching this annual event first held in Mattagami FN in the summer of 2007.
"It's so very important to have events like this for our Indigenous youth. So much was taken away from our people in the past due to government polices like the residential school system or the sixties scoop so we have to work hard to keep our young people connected to their traditional past. I am so happy and thankful for all the support I've received from our members, Wabun Executive Director Jason Batise, past Director Shawn Batise and all our leaders over the past 31 years of my career. I wish them to continue to build on the programs we've developed and to grow even stronger in improving our communities for our youth and future generations," said Jean Lemieux, Wabun Health Director.
Eileen Boissoneau, Mattagami Health Director shared her own words of praise and well wishes for Lemieux on her retirement.
"We really appreciate all the work that Jean has done for our people and our communities for so many years. She has helped our First Nations in starting so many gatherings and events that have kept all our Wabun members and health care workers connected. We will certainly miss her at the office and we wish her all the best," said Boissoneau.
The Wabun Youth Gathering originated through the vision and dream of Wabun Elder Thomas Saunders of Brunswick House FN who lobbied for a youth gathering. Sadly, he passed on before his dream came to be however Lemieux fulfilled a promise to him and developed the gathering.
Wabun Tribal Council is a regional territorial organization which represents the six First Nation communities of Beaverhouse, Brunswick House, Chapleau Ojibwe, Flying Post, Matachewan and Mattagami in Northeastern Ontario and it is directed by its respective Chiefs.