2012 – Wabun Youth Gathering Features Mini Pow Wow
Eco Resource Centre, Elk Lake, Ontario – July 16 to 27, 2012
The sixth annual Wabun Youth Gathering held at the Eco Centre Lodge in Elk Lake featured a mini Pow Wow, traditional teachings and workshops with an Aboriginal focus. Eighty-five Wabun youth attended the event which ran from July 16 to 27 and was sponsored by Wabun Tribal Council Health Services.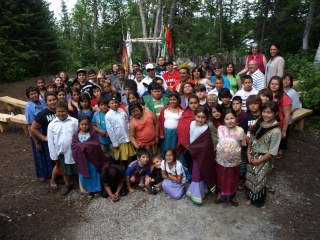 The event was divided into two parts. The first week from July 16 to 20 was held for junior youth aged from eight to 12 and the second week from July 23 to 27 was for senior youth aged 13 to 18. The first week of events featured facilitators Wayne McKenzie of Temiskaming First Nation and Dana Cosgrove of Mattagami First Nation. McKenzie, a traditional teacher and dancer, instructed the male youth on preparations and ceremonies concerning Pow Wows and dance. Cosgrove provided presentations for female youth in traditional dances, teachings and songs. The end of first week was celebrated with a mini Pow Wow on July 19 developed by the youth.
The senior week featured a series of workshops by Maria Trevizo, an internationally renowned Aboriginal speaker who has worked with many Aboriginal communities and organizations in the United States, Canada and Mexico. She is a certified Psychiatric Technician and certified Substance Abuse Counsellor. As a traditional singer and facilitator, her work is focused on providing support and guidance to youth, women and the two-spirit community through traditional knowledge and cultural ceremonies.
"I really think the Wabun Tribal Council is doing a great service to their young people with this gathering. It has been a pleasure to work the Wabun youth and to be part of such a positive process," said Trevizo.
Jean Lemieux, Health Director, Wabun Health Services explained that the annual event has grown over the years through the support of Wabun Chiefs, Elders, community members and most importantly, the young people.
"It felt so powerful to see our youth coming into the grand entry of the Pow Wow and I know a lot of people got very emotional. My generation did not have the opportunities that our Wabun youth have today in learning the teachings and culture of our people. We also really appreciate the support of Ontario Power Generation (OPG) and Home Depot of Timmins," said Lemieux.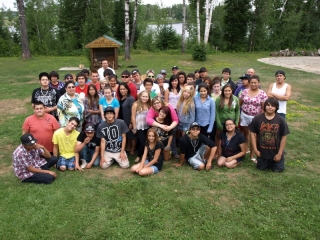 Many Wabun youth have been attending the annual gathering for years and some like Samuel Kloetstra-Naveau, of Mattagami First Nation, have taken over chaperone roles to assist and guide younger participants.
"I have been coming here for years now and it has really made a difference in my life. I have learned about my Native traditions and culture and that will help me in the future," said senior youth, Kloetstra-Naveau.
Two traditional drum groups assisted with the Pow Wow including the Iron Stone Drummers of Temiskaming First Nation and the Big Bear Claw Singers of Brunswick House First Nation.
Elder Vina Hendrix, Matachewan FN, led the group in opening and closing prayers and she was instrumental in assisting everyone with traditional and cultural knowledge.
"I always like to attend this annual event because it is an opportunity for our youth to learn so much. I want to thank all of our chaperones who assisted with days of sewing to make sure that our young people had their regalia ready for their traditional dancing," commented Elder Hendrix.
Elder, Councillor and past Chief of Mattagami First Nation, Morris Naveau was on hand to provide cultural teachings and story telling to youth as well as also conducting opening and closing prayers.
"As a survivor of the residential school system, it is a very moving event for me to see our young people learning about their culture and being proud as Aboriginal people," said Elder Naveau.
Chief Marcia Martel-Brown, Beaverhouse First Nation was on hand to assist as chaperone and provide daily traditional morning songs. Chief Alex (Sonny) Batisse of Matachewan FN also visited to show his support for the gathering. Wabun First Nation Councillors attending the event were Charmaine Saunders, Brunswick House; Jennifer Constant, Mattagami; Lionel Boucher, Matachewan and Deputy Chief Theresa Lafrenier, Beaverhouse. Nishnawbe-Aski Nation (NAN) was represented at the event by Stephen Kudaka, Oshkaatisak Coordinator.
Mike Archer, Community Crisis Coordinator, Wabun Health Services has been coordinating the event for the past six years.
"A lot of our Chiefs could not attend the event this year due to the election for National Chief in meetings in Toronto. However, we had a good turnout of Councillors who represented their communities. More and more our efforts are involving passing on the traditional teachings and culture to our young people and over the years I have seen a lot of positive changes as a result," said Archer.
The Wabun Youth Gathering came out of the vision and guidance of the late Elder Thomas Saunders, Brunswick House FN, who wanted to see the Wabun communities coming together in one gathering. Wabun Tribal Council is a regional territorial organization which represents the six First Nation communities of Beaverhouse, Brunswick House, Chapleau Ojibwe, Flying Post, Matachewan and Mattagami in Northeastern Ontario and it is directed by its respective Chiefs.